Friday 24th February, Shamrock Park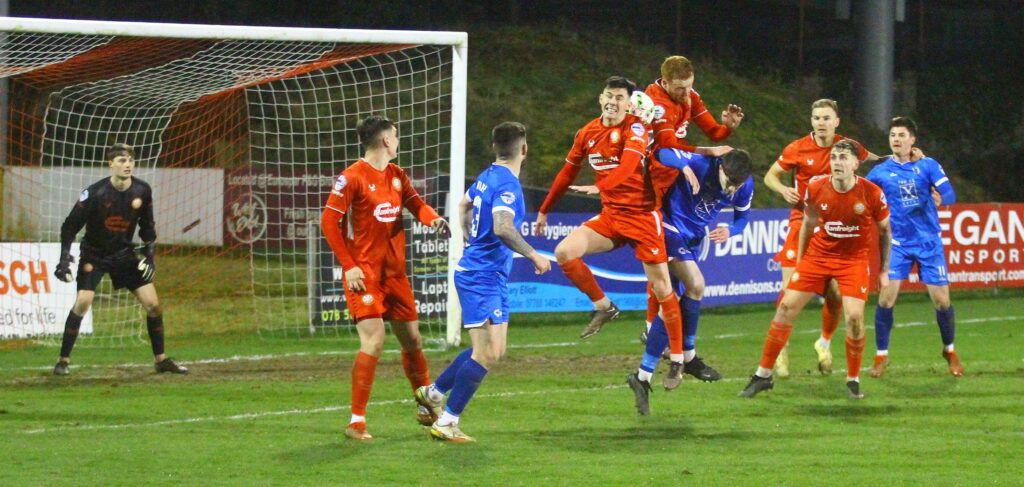 Swifts manager Dean Shiels rued his side's inconsistency after falling to a disappointing defeat against Portadown under Friday night lights at Shamrock Park.
Having impressed in a 2-0 win away to Newry the previous week, Dungannon had hoped to carry that momentum forward and widen the gap to their Mid Ulster rivals at the bottom of the league table.
Instead, Portadown's second league win on the bounce and only third of the year leaves them eight points behind with a game in hand.
Shiels expressed his frustration at the below-par performance.
"I think as a whole we had a right go first part of the second half but in general it was really poor," he said.
The first half in particular was a horror show for Shiels and the vocal away support, with the manager admitting the team were "very lucky" to go in just a goal down.
That goal came after only four minutes when Paul McElroy collected a low cross from the right and was able to swivel and shoot past Declan Dunne.
Just two minutes later there was a major let-off when the former Swifts man hit the post after a cross from the left found him unmarked just eight yards out.
Portadown later found the other post when Stephen Teggart flashed a ball from the byline across the goal and off the far upright.
There were several other close shaves during the half, including a good save by Dunne from a Teggart shot before half-time.
Dungannon's closest effort was a shot from Michael O'Connor from near the half-way line which hit the side netting as Ports keeper Mastny scrambled back after clearing the ball.
The Swifts needed a big response in the second half and they were a transformed team right from the whistle, tackling like tigers and looking dangerous each time they went forward.
First O'Connor saw a goal-bound shot saved by Mastny at full stretch. Then Rhyss Campbell came agonisingly close, stretching to reach a superb Marc Walsh cross but hooking the ball just inches past the post.
After further pressure, Dungannon got what they deserved on 57 minutes when Campbell let a throw-in run past his body and crossed from the byline for Ethan McGee to fire in the equaliser.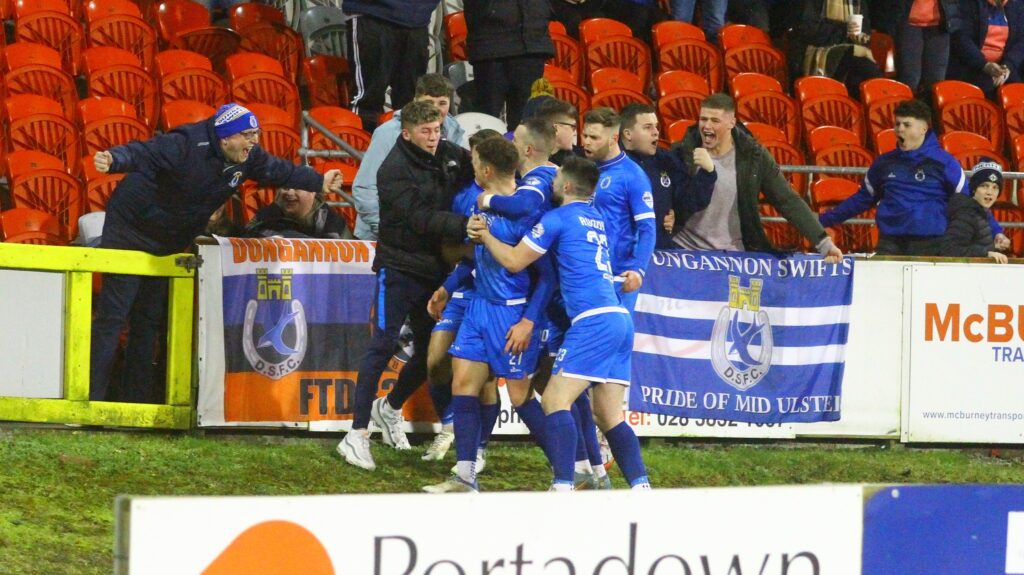 As the players celebrated with the ecstatic away support, it seemed there was only one team now in the contest.
However, the momentum would shift again just minutes later when out of nothing, McElroy was found on the left-hand side of the box and his shot squeezed past Dunne at the near post.
The drama continued when referee Lee Tavinder awarded a penalty for a challenge by Dunne on Lee Upton, only for the offside flag to reverse the decision.
A minute later, it was the Swifts' turn to hit the woodwork when Jordan Jenkins smashed the ball against the crossbar with just the keeper to beat.
However, the away team's challenge fell away as the half continued and it was Portadown who began to look the more likely to score. Victory was secured in the final minutes when McElroy completed his hatrick from the penalty spot after being brought down by Caolan Coyle
Afterwards, Shiels said the team were too easy to play against in the first half.
"When we were attacking, every time we lost posession, the transition, they stuck it in behind us and they looked very threatening. We weren't preparing to lose the ball," he said.
"I knew we would get a reaction at half time. I felt we would come out and maybe create chances and we did that. At 1-1 we looked quite threatening and then we gave them a wee bit of momentum. We had full momentum and then that shifted by letting in a really poor goal defensively."
He said inconsistency has been an issue across most of the season.
"At Newry we get a clean sheet, we never looked like conceding. We were so well organised defensively. And it's the same team, I put trust in the same team that were so good at Newry and then so poor tonight. So it's just inconsistency in the individals and then collectively," he said.
Next up for Dungannon is an Irish Cup quarter-final against Cliftonville at Solitude, before returning to league action against Carrick back at Stangmore on 11th March.
PORTADOWN: Mastny, Rodgers, Upton, McKeown, Chapman, Wilson (Balde, 30, Stedman, 56), McCawl, Russell, Teggart, Friel (O'Sullivan, 76), McElroy. Unused subs: Barr, Igiehon, Jordan.
DUNGANNON: Dunne, Animasahun (Curry, 46), Bruna (Coyle, 43), Ruddy, Knowles, McGinty (McCready, 83), Campbell (Moore, 83), McGee, Walsh (Mayse, 68), Jenkins, O'Connor. Unused subs: Nelson, Smith.
Referee: Lee Tavinder
Man of the match: Paul McElroy