Saturday 22nd April, Stangmore Park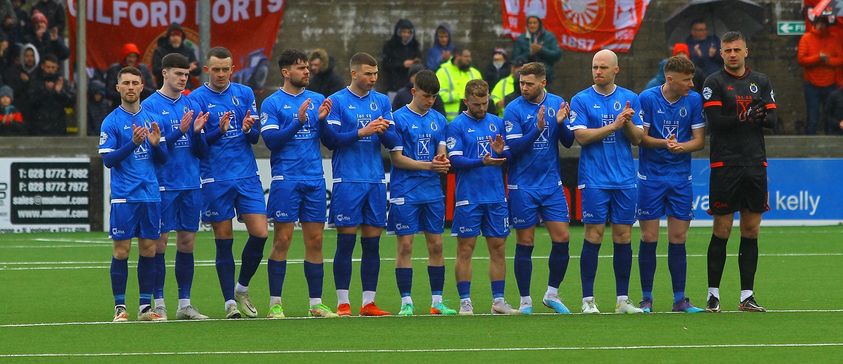 Tense, thrilling and ultimately triumphant – the Swifts showed tremendous character in a titanic battle against Portadown to take a crucial step towards securing their Premiership place next season.
Dungannon had to take the lead three times to wrestle three crucial points from the visitors in a result which condemned their mid Ulster rivals to automatic relegation.
Dean Shields' men now face the prospect of a two-game play-off against Championship runners-up Warrenpoint Town to extend their 20-year stay in the NIFL's top tier.
It was the biggest game at Stangmore for several years and there was an atmosphere and attendance to match, with both sides roared on throughout by a huge support.
Having at one point been 15 points adrift at the foot of the table, Portadown had narrowed the gap to Dungannon to just two and hoped they could continue their Houdini act against a home side who'd collected just one point from their last three games.
However, it was the Swifts who looked the more confident team for much of the opening half, dominating possession and looking dangerous from set pieces.
Portadown got a warning after 19 minutes when a corner from James Knowles was headed onto the foot of the post by Cahal McGinty.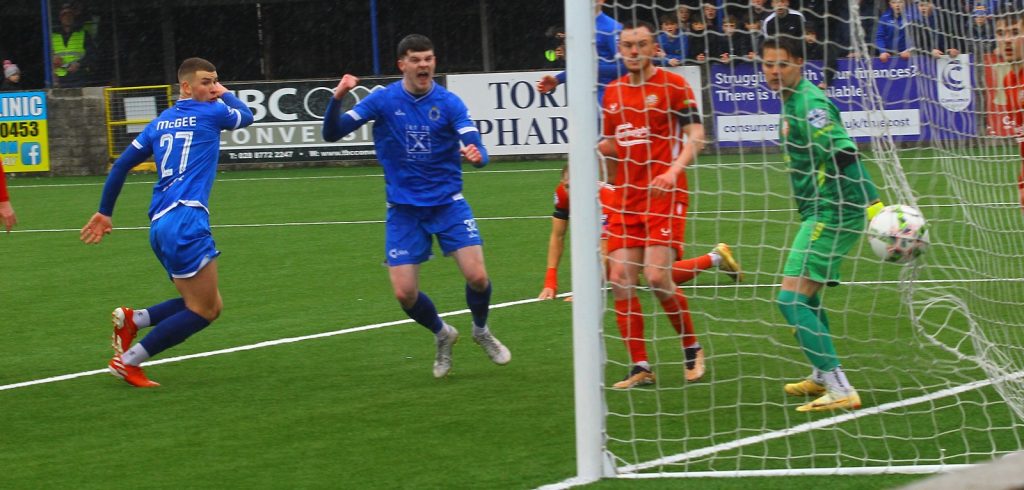 A minute later another perfect Knowles delivery saw Ethan McGee rise like a salmon and head into the corner to put Dungannon into a deserved lead.
The vocal home support in the corner of the ground were briefly celebrating again two minutes later when Jordan Jenkins hit the net, only for the offside flag to go up.
Portadown grew more into the game in the latter stages of the half, with Steven Scott perfectly positioned to head a Cathair Friel header off the line, but the score remained 1-0 at the half-time whistle.
The home team were forced into two substitutions at the break, as Corey Smith and Mayowa Animasahun replaced the injured Marc Walsh and Caolan Marron.
And the second-half immediately saw a reversal in momentum, with Portadown starting to impose themselves much more on the game.
When the equaliser came it was from a familiar source – former Swifts man Paul McElroy had scored a hatrick in the last meeting at Shamrock Park and he levelled the tie on 58 minutes when he tapped in from close range after a deep cross was headed into his path by Lee Chapman.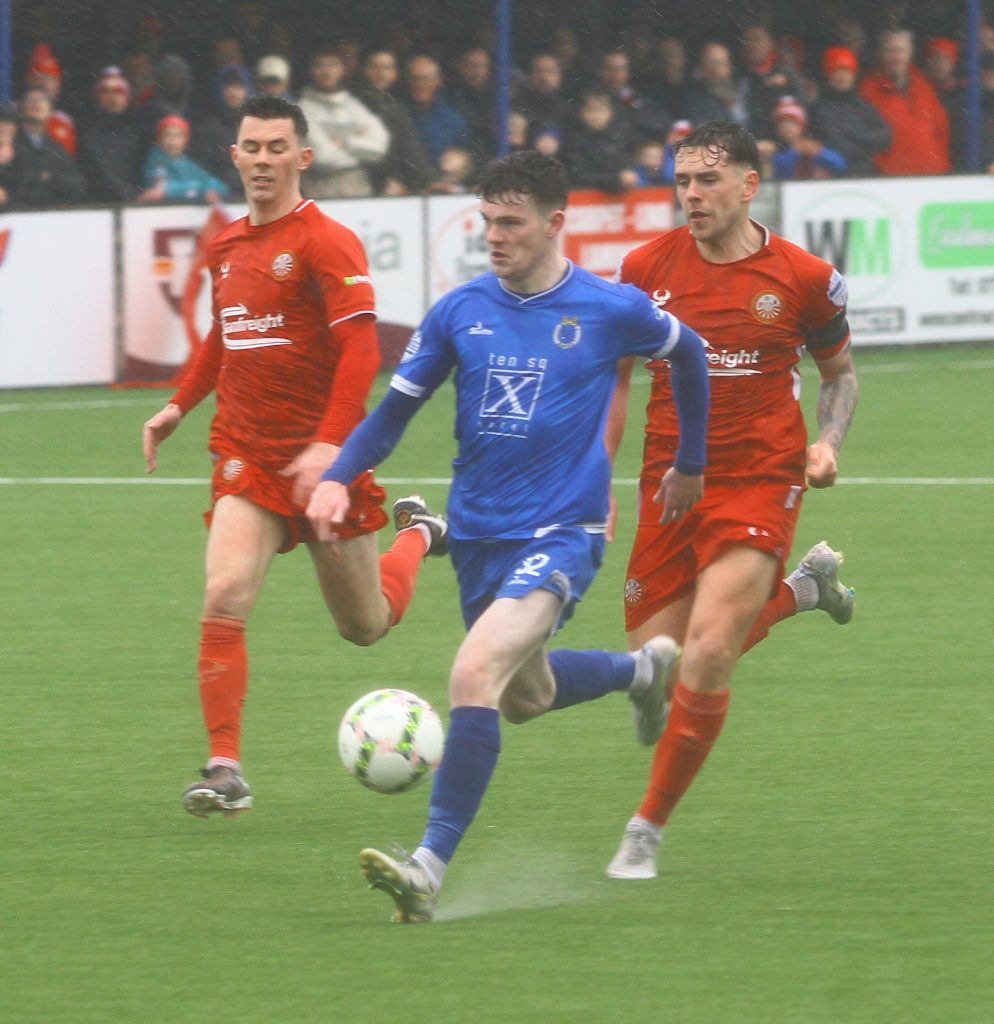 Portadown's tails were up and they set out in search of a second goal. However, Dungannon instead re-took the lead five minutes later when Jenkins burst past two Portadown defenders to collect a long clearance by Dean Curry and coolly slot the ball into the corner of the net.
If it looked like Portadown's bubble had been burst, there was more drama to come just minutes later as McElroy equalised again.
A tame cross from the left found McElroy eight yards out and his snap shot struck the crossbar and rebounded off the back of keeper Declan Dunne to cross the line.
The game – and top-flight survival – was in the balance again but it was Dungannon who somehow summoned the spirit to find a winner.
Corey Smith had been tying Portadown defenders in knots each time he got on the ball on the left and when substitute Bruna fed him on the touchline with 10 minutes to go, he twisted and turned before sending a low ball into the box which was met by an unmarked Michael O'Connor to send the home fans delirious again.
Dungannon then withstood some inevitable late pressure, with Dunne batting the ball away from a close range connection from a corner in injury time to see out a famous victory.
Assuming the Swifts don't beat Newry by 13 goals next weekend, they now enter a play-off against Warrenpoint on May 2 and 5 to keep their place in the Premiership.
Assistant manager Tony Gorman said there was a mixture of relief and joy after the game as the focus now shifts to the next big challenge.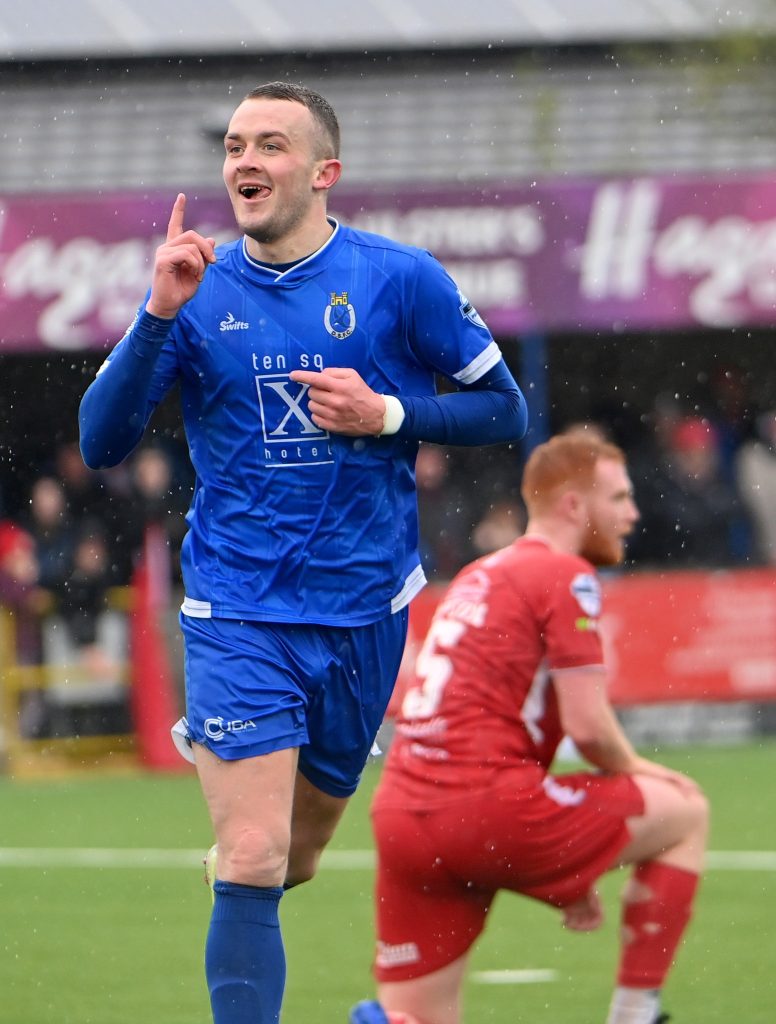 "The threat of relegation was hanging over us, and in such a pressure game and a big crowd and against a very difficult opponent, we're delighted the boys have come out on top," he said.
"I thought we started the game really well, the first half-hour. A wee bit disappointed we didn't have a two-goal lead at half-time.
"The second half-then was one of those where Portadown just went for it because they were playing for their survival. We're just delighted we've come out on top of a five-goal thriller."
Full interview available to watch here: https://youtu.be/jl67B69odP0
Swifts: Dunne, Marron (Animasahun, 46), Knowles, Mayse (Bruna, 76), O'Connor, Curry, McGinty, Walsh, McGee, Jenkins (Moore, 83), Scott (O'Kane, 58). Subs: Nelson, O'Kane, Smith (Walsh, 76). Unused subs: Nelson, Lynch.
Portadown: Barr, Upton, Wilson, Russell (Balde, 80), Chapman, Archer, Rogers, McCawl (Igiehon, 90), Friel, McElroy, Walker (O'Sullivan, 56). Unused subs: Mastny, Stedman, Teggart, Jordan.
Referee: Tony Clarke